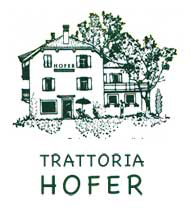 ALBERGO TRATTORIA HOFER
des Larcher Claudio & C. sas
Bergamo-Straße 19
I–39100 Bolzano–Bozen
TEL +39 0471 913 522
FAX +39 0471 508 448
info@hoferbz.com
Steuernr. - MwSt.-Nr.: 01138340219
Handelsregister Bozen: 10274
BANKKONTO:
Spoarkasse Bozen
IBAN: IT68 G060 4511 6080 0000 0351 100

Hotel Inn Hofer
The Hotel Inn Hofer, a family business of recent restructure, is located near the highway exit Bolzano South. It is situated in a quiet and calm residential area with Parking possibilities.
The city center is reachable in 20 minutes (on foot) or comfortably by bus. There are two local bus connections who will take you to the center.
You can also easily reach the city center by cycle. It's really near the bicycle track.